There are so many pimple and acne creams out there. But do they live up to the hype? Not all of them. In fact, most creams are disappointing: they fail to get rid of dark spots caused by pimples and acne, and fail to get rid of pimples.
But which CREAMS are the BEST for PIMPLES and ACNE? Here are our top 5 creams that actually work and why.
A dark spot treatment is not particularly glamorous, but it is a must have item in the bathroom shelf. Acne pimple breakouts happen to all of us, but whether you want to get rid of the spots, blemishes or stop the breakouts, here are the best creams that do what they promise.
#1. Proactiv 3 Step Acne Treatment
Proactive is the cream your favorite celebrities use to get a flawless skin. Proactiv is currently the most popular acne treatment cream in the United States. One of the contributing factors on why it is so popular is because of the many endorsements it has received from various celebrities. The following are its pros and cons.
Pros
It actually works. Proactiv attacks the two primary causes of acne: bacterial buildup and blocked pores. It uses benzoyl peroxide, which is an antibiotic to kill the acne-causing bacteria, and an exfoliant so as to unclog your pores.
Proactiv relies on a three-part system that is quite mild. However, it is operational because of the fact that the system gets repeated two times each day. The company sends you the acne products after every two months in a bid to encourage to continue using the cream, even on days when you do not have any acne breakout. It, therefore, assists in ensuring that you will not get another breakout, which is much better than actually treating the pimples after they have appeared. Try Proactive 3 Step Acne Treatment Cream
Cons
Proactiv is designed to be mild, it has been seen to cause peeling, stinging, and redness. There are people who are unable to tolerate the active ingredients used in Proactiv, and they therefore resort to using this product once a day.
Like all the other products that are used in treating acne, it takes about eight weeks for you to start noticing any results. Before then, you will not be able to note any improvement. Additionally, the benzoyl peroxide used in the manufacture of Proactiv can bleach your hair, towel, pillow cases, and even clothes.
It can be expensive. It is possible to purchase its active ingredients separately for a much lesser amount, as compared to purchasing this cream.
It does not cure acne, but on the other hand, nothing actually does. An average teenager will have acne for around seven years, while an adult woman can have it for twenty years. Even if you manage to control the breakouts, it will come back as soon as you stop treating it.
The main reason why Proactiv fails in treating acne is because individuals stop using the cream as soon as their breakouts have been controlled. Acne treatment is time consuming and is continuous. Just like working out, acne treatment is only helpful if you do not stop.
#2. Salicylic Acid Cream
Do you have an oily skin? Are you dealing with an acne breakout? Salicylic acid is considered to be the best acne treatment for people with oily skins. The reason many products that list salicylic acid as an active ingredient do not work is because they often contain the wrong concentration of this acid at the correct pH.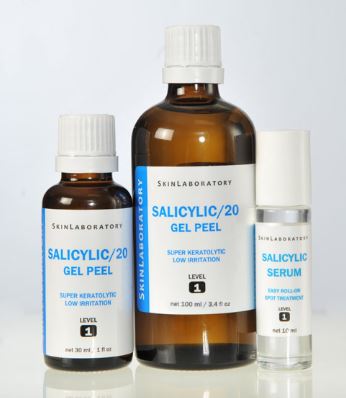 The acid is an exfoliation ingredient, which is quite similar to aspirin. Just like aspirin, it eliminates the inflammation and removes the redness while opening up your pores. If you choose to use salicylic acid in treating acne, be sure to wash it off in accordance with the instructions provided in the package.
Pros
Adding it to your skin yields many of the advantages that are associated with scrubbing, but without posing the risk of breaking your tiny blood vessels or rupturing your pores.
It increases your cell turnover. By doing so, it makes it possible for your skin to grow at an enhanced rate, which then opens up your pores, filling in any available indentations, while making the skin less floppy.
Even though it is at times too strong for people who have dark skin, it can assist in removing discoloration from your skin.
Cons
It has the potential to leave your skin feeling a little bit dry. You must, therefore, make sure that you do not use any harsh astringents or cleansers when using a salicylic acid acne treatment product.
You are required to make sure that you regularly use moisturizers to soothe your skin or it could be damaged by the acid.
#3. Retin A acne pimple cream with retinol
Also known as vitamin A, Retin A is another ideal can treatment product for women who constantly have to deal with acne breakouts. Its pros and cons include:
Pros
It improves the pigmentation marks
Stimulation of elastin and collagen production
It stimulates GAGS—these are molecules that are vital for skin hydration
Improves your skin laxity
Reduces the excess production of oil
Adds a youthful and healthier glow to your skin
Improved appearance of your skin pores (reduction in number as well as size)
Try Retin A retinol acne and pimple cream
Vitamin A has a for a longtime been used in treating acne. When you use it topically, your skin will not only improve, but it will also make you look younger.
Cons
One of the downsides of using this product is that it is a targeted product, which means that you have to use it together with serum, cleansers, and moisturizers. It may therefore be an expensive option when you add all the costs. Additionally, it can produce skin reactions that may include:
Mild skin peeling
Redness or inflammation of your skin
Unusual dryness
A tingling or burning feeling on your skin
Increased sun sensitivity making it important to use SPF
#4. Glyco 6 Glycolic Acid Cream
Glyco 6 cream contains glycolic acid as an active ingredient. The acid is a naturally occurring element, which can be found in items such as sugarcane, fruits, and milk.
Pros
It comes with an exfoliating effect that assists in breaking up dead skin cells that may have come together in an unhealthy manner, thereby leading to improved and healthy looking skin
This cream has a number of uses e.g. preventing or treating acne, lightening your skin color, and fading the scars that have been caused by an acne breakout.
Get Glyco 6 Glycolic Acid Cream
Cons
If you choose to use glycol 6 in treating acne, you may experience some or all of the following adverse effects:
Dry skin, so you will need to moisturize well.
Oily skin
Irritation or redness on the application site in some people
Light sensitivity
Hypo pigmentation
In case the side-effects persist or worsen, make sure to contact your doctor immediately.
#5. Benzoyl Peroxide 10% Cream
Benzoyl peroxide is by no doubt one of the top products when it comes to managing and treating acne breakouts. It is considered to a mainstay for getting clear and fair skin. Even though this powerhouse component is deemed great for dealing with breakouts, not all experts believe that it is the correct treatment for people worried about skin ageing, as the long-term effects associated with benzoyl peroxide may not be worth getting speedy results. The following are some of the pros and cons associated with this cream.
Pros
It clears acne breakouts fast. It does this by killing the bacteria that causes acne. Additionally, it is able to achieve this goal without causing skin dryness.
Benzoyl peroxide also acts as an anti-inflammatory agent by reducing the amount of oxygen present on your skin. Given that it is able to reduce bacteria present in your skin pores, it also gets to eliminate the inflammation that is within the blemish.
Try Benzoyl Peroxide 10% Cream
Cons
It causes premature skin ageing and dehydration. It causes skin irritation leading to dehydration. When your skin is dry, it will appear to be very old.
It may lead to hyperpigmentation.
It induces sun damage. As it is cleaning your skin, it thins it, thereby reducing its ability to protect itself from the harmful sun rays.
Do you want acne treatment creams that actually work? The creams discussed above are some of the best in the market today, and are designed to provide you with flawless skin, even when environment dirt and lack of sleep conspire to leave you with spots all over your skin.
Article Resources